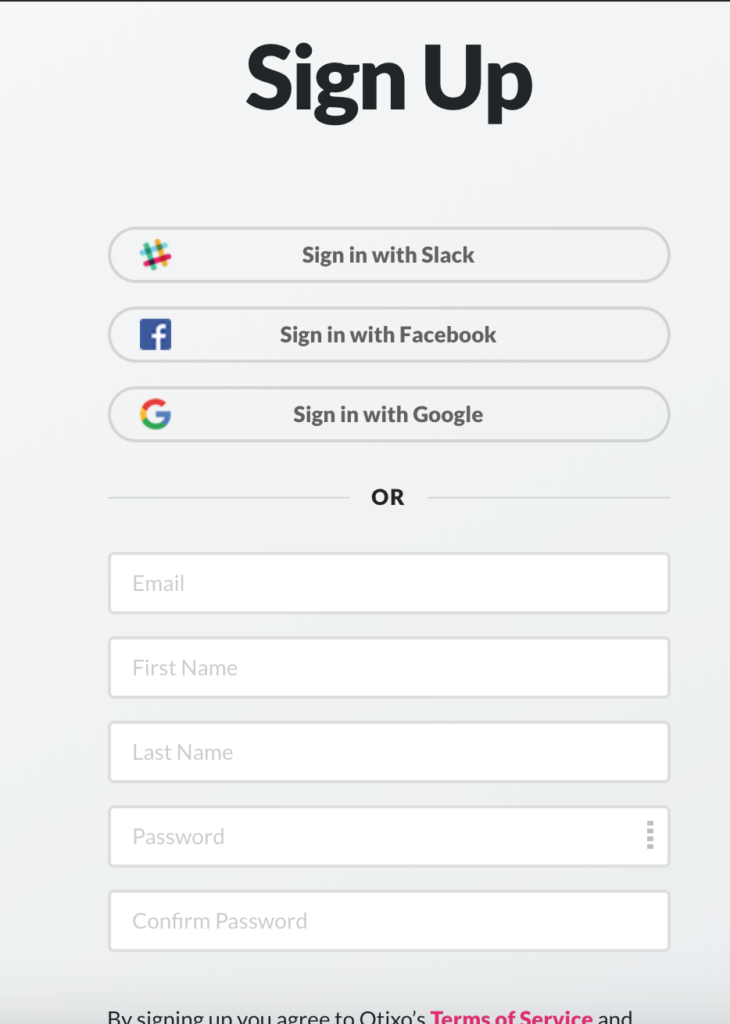 The OTIXO offers several ways to sign up, such as Facebook, Google, and email. We chose Google, and to our surprise, our Google Drive account was not linked, when we logged in.
There is no link to Privacy policy at the main page, and we could not find any link to Privacy policy when we logged in.
Easy of use
When we were logged in we saw an empty screen. Several dialogs popped up to inform us about how to use it, but we dismissed them all. OTIXO works with work spaces. We can invite other users to a workspace by entering their email address. In the free version we can create up to 10 work spaces. Each workspace uses channels, but, there is no limit in the number of channels that we can create in a workspace. At the bottom of the screen there is a chat tool. We can use it to upload files to that channel or to chat with the members of that channel.

We go to the list of linked cloud account by clicking on the icon in the bottom left corner. Note, that this icon changes, and the tool-tip would say "Work spaces". We are immediately presented with an empty folder. This folder belongs to our OTIXO cloud account, and it has a very large storage, equal to 25GB.
We connect to more services by clicking on the "Cloud Drives" button. The process is straight forward, and we can add more than one accounts from the same cloud service. In the free version we can add up to 10 accounts.
Browsing
The account management screen is split into two sections: The left section has the list of linked accounts, and the right section the list of folders/files in the selected account.
At the right end of an account line we find three dots. We click on it and we get a menu with two options: Rename and Remove. The rename option displays a dialog to change the name that is given to that account.
In the right section, at the right end of a line we also find three dots. This is a button to a menu of actions for that file / folder: Copy, Move, Rename, Delete, and Download. Next to the three dots, we see the "Share" button. This button allows us to share that file/folder to a a channel in a workspace.
Above the list of folders/files we find three more buttons. Those are for refreshing the list, creating a folder and uploading a local file, respectively.
Transferring
We can not transfer a file/folder by dragging & dropping it. Instead we select the "Copy" action, and we then select the account / folder that we want that item to be copied to. At the right end of the screen, a window appears with a progress bar indicating the progress of transferring a file.
Efficiency
It is extremely easy to browse folders and to transfer files/folders between accounts. More importantly, OTIXO has a mobile (both iOS and Android) and a desktop version (both Mac and Windows).
Finally, OTIXO has a large selection of cloud services:
4Shared
ADrive
Alfresco
Amazon
Box
CloudMe
Cubby
DriveOneWeb
Dropbox
Evernote
Fabasoft
FilesAnywhere
Google Drive
HiDrive
LiveDrive
MEGA
MyDrive
OneDrive
SugarSync
Web.De
WebDav
Yandex
pCloud
Cost
In the free version we can add up to 10 cloud accounts and work spaces. Also, there is a $0.49 / GB fee for transferring files / folders between accounts. There is no limit in the connected accounts and no fee for transferring files/folders in the Standard version. But, that version is not free, and it costs $6.67 per month per user (for monthly subscription, the cost is $8).